Avantia Damberg is a visual artist from the island of Curaçao. I met Avantia a couple of years ago and we have been running into each other in the Netherlands, Aruba and Curaçao at different art events over the years. Most recently, our paths crossed on the 22nd of June at the launch event of Aruba Art Fair in San Nicolas. She told me she was visiting Aruba as an artist in residence at Ateliers '89. Aside from creating new work during her residency, she was also giving a typography workshop. She asked me where she could find my books as she wanted to feature one of my poems in her work. I told her I'd stop by Ateliers '89 to chat some more about typography and deliver my books.
The following week I paid her a visit where we sat outside her apartment at Ateliers '89 and discussed artistic developments on the islands and she introduced me to the art of typography. She took me through some of the books on typography she was using for the workshop and I immediately got inspired. I had been thinking about new ways of participating in events as I do not want to be bound to reciting poetry each time I am invited. I left her with my books and wishes of success and energy to carry out the 4-week long workshop.
A month later, on the 21st of July 2016, Ateliers '89 held the opening of Avantia's typography workshop entitled "Trankil" (Papiamento for 'Calm'). When the invitation showed up in my mailbox I couldn't believe it had already been one month since Avantia and I chatted that one afternoon. I was eager to see what she came up with and which poem she chose to feature in her work. As I entered the exposition, I read the description of the workshop: "The aim of the workshop is to awaken an interest and love for typography and to discover your own font type in different ways. We all have our handwriting but this is ampler. The workshop also aims to transform 2D texts to 3D images; an introduction to installation art." The space was indeed filled with different ways the workshop participants tackled the stuff of typography. They used materials such as food, paint, light, marbles and bottles to communicate their message.

As I navigated through the exposition I recognized a couple of colorful words placed on a white wall. It was my poem "Mi ta di" featured in my second book Spiel di Mi Alma. The letters were created from recycled plastic bags placed on a background of the same material. Later when I found Avantia outside the exhibition room, I asked her to share the reason behind her choice of that specific poem. She said she liked the layers of the piece and she could identify with the message. About the choice of material she explained that during her visit at Brenchie's Lab in Aruba (a makerspace focused on open experimental design and innovation using digital fabrication and recycling) she discovered plastic bags as a material to paint with and to make installation art from. I expressed my gratitude to her for featuring my poem in her work and for inspiring me to find new ways of participating in the art sphere.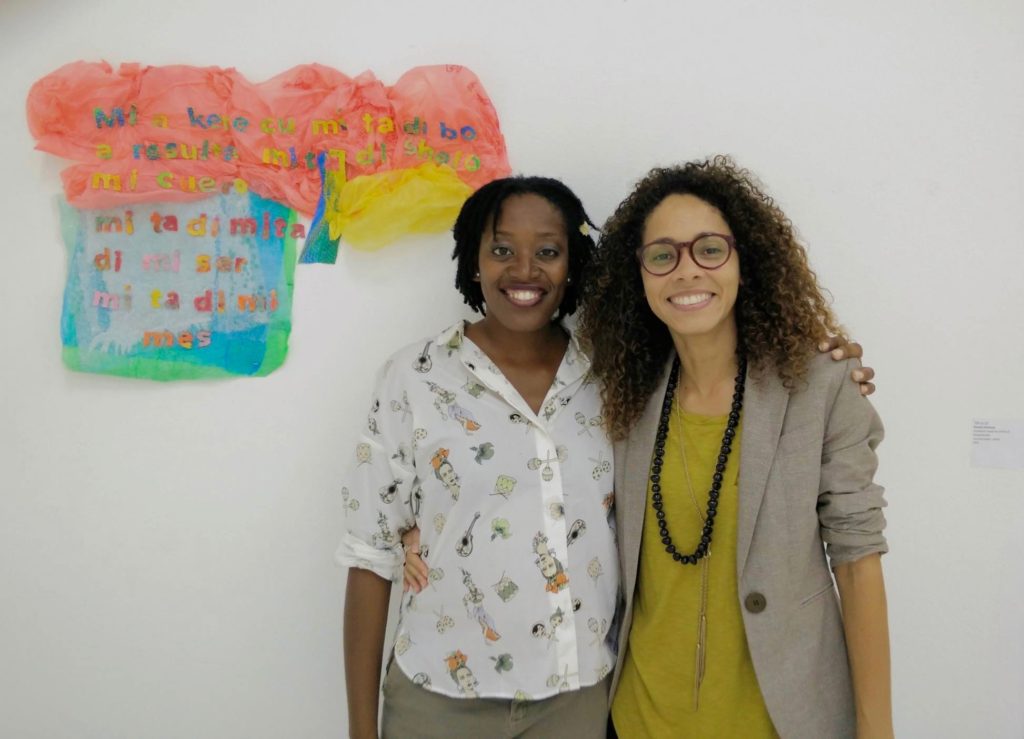 The exposition "Trankil" is open until the 4th of August. It is truly worth the time to visit and explore the art of typography as expressed by the workshop participants. Avantia has 4 more original pieces in this exposition, including a map of Aruba shaped by the various last names that form the foundation of our island. She started this project on her own island creating a map of Curaçao — which is now permanently exhibited in the office of civil registration in Curaçao. During her residency she researched the families in Aruba to gather the last names to build the map of Aruba. The last thing I told her before I left was to create this map for our other neighboring island Bonaire. She said she was actually thinking about Bonaire for her next residency. To follow Avantia's artistic adventures visit www.avantiadamberg.com