The Aruba Art Fair will take place on the 16th, 17th and 18th of September 2016. International street artists have been invited to invade San Nicolas with their spray cans and help beautify Aruba's Culture and Heritage City as it is undergoing restoration and renovation. When the organizers asked me to create their promo and feature in it with a poem, I said I would come up with the concept, help put the shots together and hop on board as creative director but the text should be written and recited by a poet from San Nicolas. I believe if there is any city in Aruba that has its own identity it would be San Nicolas. Those who were born and raised in the Sunrise City exude a contagious vibration that I knew would be felt on camera.
I approached my friend and fellow poet Leonardo Philips, a gifted rapper and spoken-word artist from San Nicolas to be the face of this promo. In our conversation I told him "I need you to write something for your city in the flavor of Fresh Prince but not Fresh Prince meets Kendrick Lamar but not Kendrick Lamar", to which he replied "I got you, teach." Once his text was written, Leo spent one night experimenting in the studio with Colombian musician Ivan Jemaima. I have had the pleasure of working with Ivan in the past and have experienced his high musical IQ. When I told him the beat needs to have that soul funky feel he knew exactly what I meant. I dropped Leo off at Ivan's studio, went to a meeting and returned 3 hours later with pizza. As Leo and Ivan worked through the slices I listened to what they produced. I loved it. We made some adjustments and concluded that we needed and vocalist to take us to church with this track.
Again, I wanted the vocalist to be from San Nicolas. Leo contacted Ebony Peterson and we repeated the same steps, I dropped Leo and Ebony off at Ivan's studio one evening, went to a meeting and returned 2 hours later to hear the results. It was awesome. The track completed with beautiful "shi-na-na-na's" by Ebony's soothing voice. We were only missing her energy somewhere in the middle of the track. We experimented with some shouts here and there, that didn't work. We fooled around with the many instruments Ivan has in his studio as we pondered on what was missing. Then Leo said "what if she repeats 'come back' after I say 'come back to me.' I asked Ebony if she can do something when Leo says 'come back to life', to which she replied 'come back to liiiife.' We all looked at each other with that gaze that requires no words. We have it.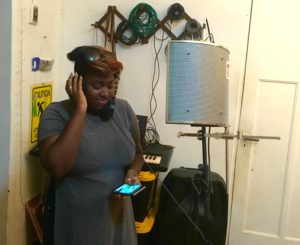 The track was finished on Friday morning and we recorded the video on Saturday from 8am to 2pm. Sketch Advertising was in charge of the filming and a group of artists came together to make the shoot possible. Energetic dancers Mirzah Manga and D'Andre Maxwell starts us off in front of the first empty mural. As Leo continues to walk alongside the wall we see young local painter Leam Gomez standing next to a canvas he painted live that morning. The next empty mural forms the backdrop of local designer Gigiola Gomez's mannequin wearing one of her dresses. The empty walls become colorful as Leo arrives where guitarist Xavier Geerman and vocalist Ebony Peterson are grooving. This "From Aruba with love" mural was created by Dutch artist Sandro Angela. Next to this completed mural we are presented with a mural in process: the logo of the Aruba Art Fair being painted by artist Maria Onni. After passing this mural Leo utters his last sentences "Art will rise in Sunrise city" in front of the 4 murals created by the Aruba Mural Project. With the remaining shots we tried to communicate the vibe that is developing as the Art Fair is approaching. Breakdancer Elvys Trunkz Sanchez flips in two spaces, two aloe sculptures from the ongoing aloe competition spin in the streets of San Nicolas thanks to the vision of local artist Natusha Croes and finally the last shot is a time-lapse of the Aruba Art Fair logo mural illustrating the completed piece.
The video was launched on Facebook, then on National TV and today Leo is being recognized on the streets where people stop him to say "Good job, San Nicolas needs this." Kids are singing to the promo track as if it is a song and are referring to the video as if it is a video clip. This is the only reason I get up and produce such products, all in favor of #content.