We touched down at the Ernesto Cortissoz International Airport around 10:30PM. Its small and charming characteristics reminded me of the Flamingo International Airport in Bonaire. An edgy lady stood in the arrival hall with a Carnaval Internacional de las Artes sign in her hand, a Carnaval Internacional de las Artes T-shirt on her body and an "it's carnival!" look on her face. Warm greetings, comfortable chatter and a 40 min drive later, we were welcomed at the Hotel el Prado. A quick check-in followed by a delicious seafood soup had us in bed by midnight. I read a few pages from last year's extensive and beautiful publication of the Carnaval before I fell asleep and thought 'This is going to be cool.'
The next morning I woke up on the 9th of February, the first of a 3-day loaded program featuring literary readings, movie screenings, art exhibitions, theater plays and musical concerts. As I made my way attending different sessions I found myself with the same sentiments I felt during FILBo in Bogota last year: the cultural and artistic knowledge and awareness of the Colombian people is so inspiring. The engagement of the audience in such an intellectual and warm manner was, like in Bogota, so delicious. During renowned Colombian poet Juan Manuel Roca's "llevantan a poesia" reading, folks were shouting out titles of his poems as he sat there like a literary rock star soaking in chants of requests from fans. Ahh "La reflexión como espectáculo", the Carnavals' theme finally made sense to me. They're truly living it out here.
I spent the days navigating about and meeting new people like multidisciplinary artist Paul Morocco, who led an incredible inauguration show with his musical comedy trio Olé. I listened to new music such as the Dutch cumbia experiments by Dick el Demasiado and witnessed more familiar sounds by "El embajador del piano"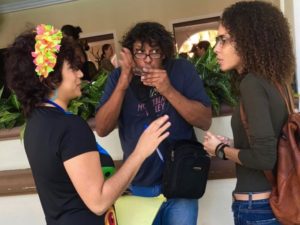 Richie Ray at his massive concert in Parque Cultural del Caribe. And I connected the dots as much as I could. These trips always tend to come with a couple of reassuring signs and small peeks into next steps, so my sensitivity to picking up that kind of crazy stuff is heightened when I am abroad. Award winning Colombian author Octavio Escobar, when highlighting the importance of continuously redefining yourself, said "Si viene facil hay que desconfiarlo." I grabbed my notebook and jotted it down as I thought about my obsession with discomfort, also known as my only indication that I should pursue a project. Comfort warns me that I am on a dangerous path artistically. Listening to Escobar describing that same sentiment reassured my sanity which I sometimes question when people react surprised or perplexed at opportunities that I have turned down.
All the goodness led to the last day, my own performance accompanied by the music of Barranquilla born Ivan Barrera. My biggest concern was living up to the genre the Carnaval has placed me in: Poesia cantada. To me, the way I play with certain parts of my poems are mere effects. I never thought of it as "sung poetry." The experience was divine. The audience received the Spanish translation of my Papiamento and English pieces and followed me as we delved into some of them with further questions and discussions. After the session I got to speak to a few members of the audience, among them artists, teachers, musicians and journalists. I left the historic venue Cueva feeling elevated. I don't know what it is with Colombia and I but all I could think about on the flight back home was gratitude.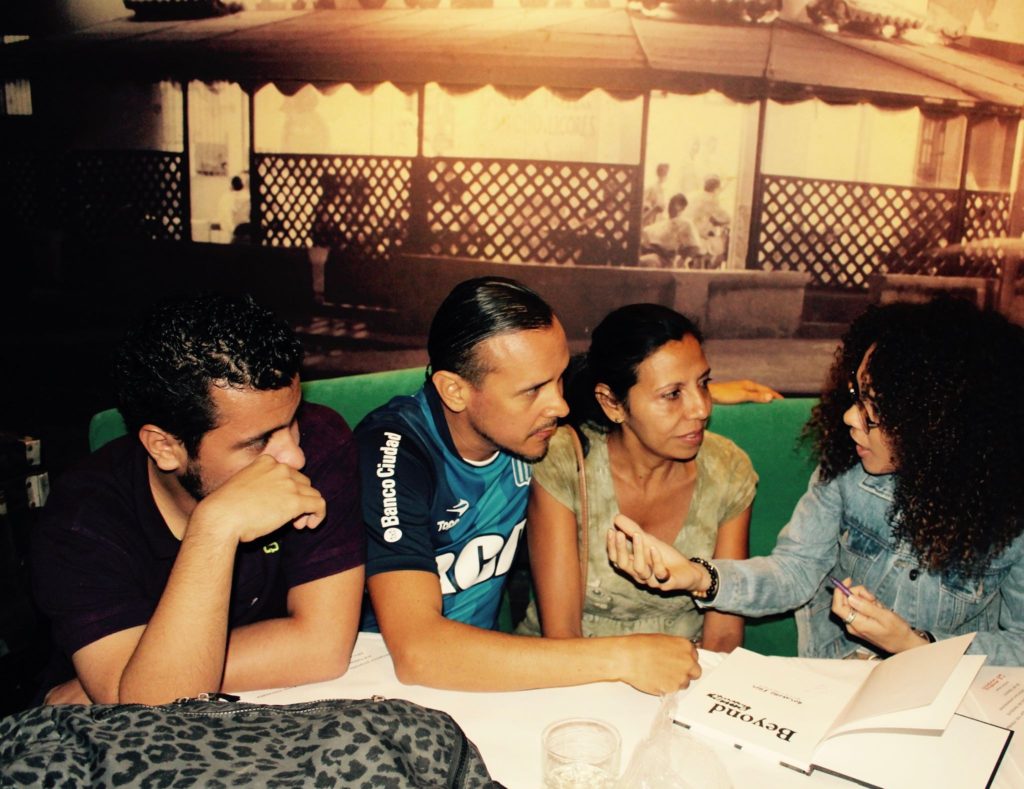 Thank you to Fundacion La Cueva and the Dutch Embassy in Colombia for inviting me, to all the people I have met during this journey, to Ivan Barrera for giving my words good company and to my patient and compassionate mother for once again joining me on another adventure.